AT GREAT EASTERN RADIO WE REALIZE AND UNDERSTAND THE FEARS AND CONCERNS REGARDING COVID-19 ARE REAL. WE WILL CONTINUE TO MONITOR THE SITUATION, BOTH GLOBALLY AND LOCALLY, AND PROVIDE LISTENERS WITH ACCURATE AND CURRENT INFORMATION TO THE BEST OF OUR ABILITY. INTERNALLY WE ARE TAKING THE PROPER PRECAUTIONS AS OUTLINED BY THE CDC, ENSURING OUR BUILDINGS, STUDIOS, AND EQUIPMENT ARE CLEANED REGULARLY, ENCOURAGING STAFF TO WASH THEIR HANDS FREQUENTLY, AND TO STAY HOME IF FEELING SICK. THE HEALTH AND SAFETY OF OUR COMMUNITIES IS OF UTMOST IMPORTANCE, AND WE ASK THAT YOU JOIN US IN FOLLOWING THE CDC PROTOCOLS TO HELP LIMIT SPREAD AND EXPOSURE OF THIS DISEASE.
GET CURRENT STATISTICS AND PROTOCOLS ABOUT CORONAVIRUS (COVID-19)
BY CLICKING THE FOLLOWING LINKS:
STAY INFORMED WITH CURRENT INFORMATION ABOUT CORONAVIRUS (COVID-19)
BY CLICKING THE LINKS TO THESE LOCAL MEDIA NEWS OUTLETS:
The Barre-Montpelier Times Argus
LOCAL BUSINESS UPDATE (Courtesy of The Barre Partnership)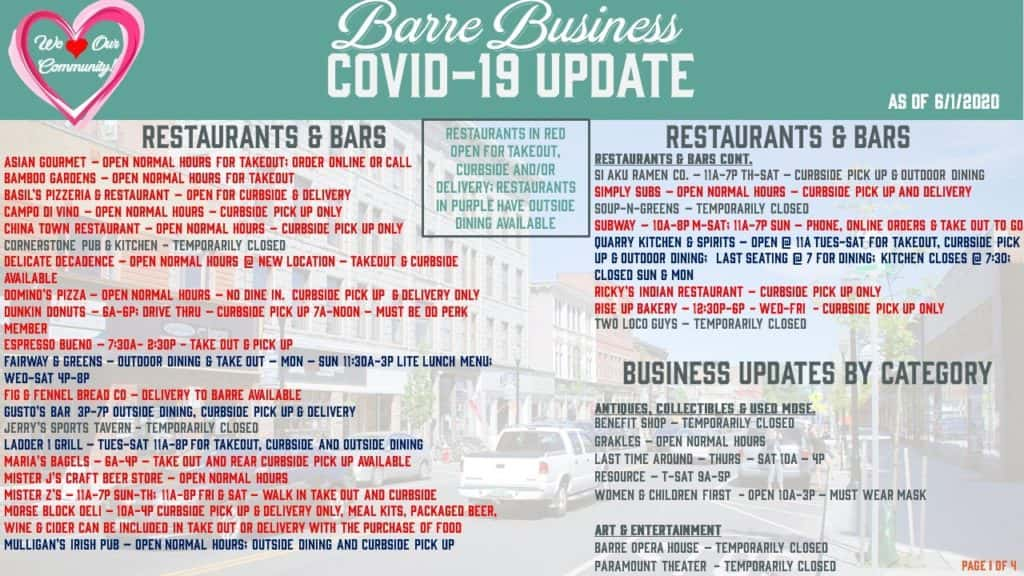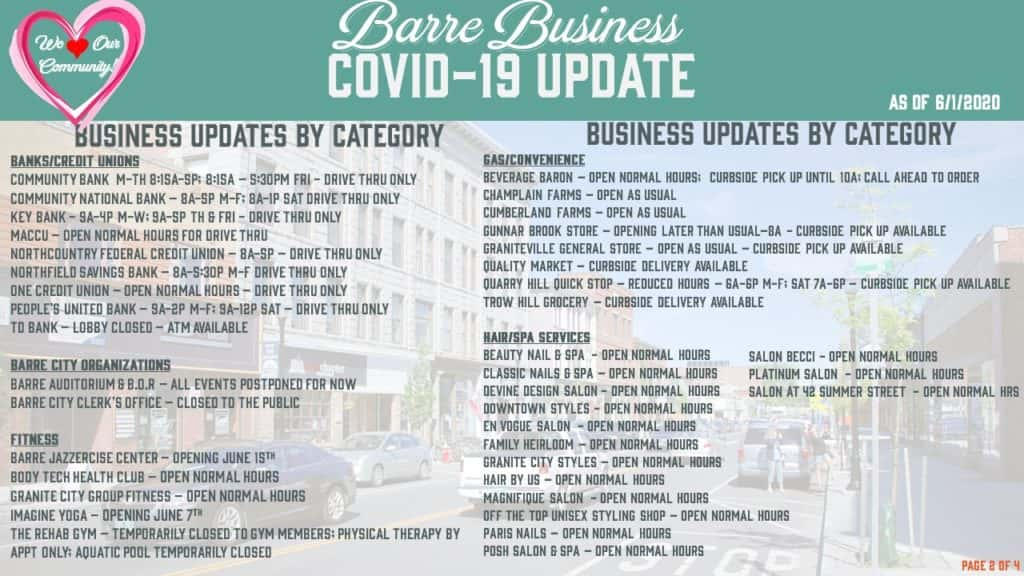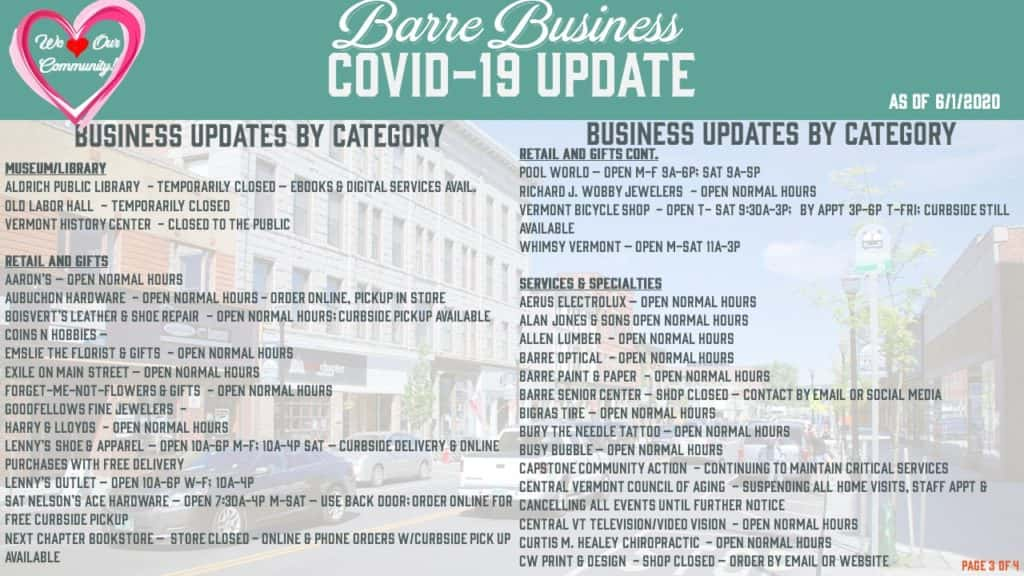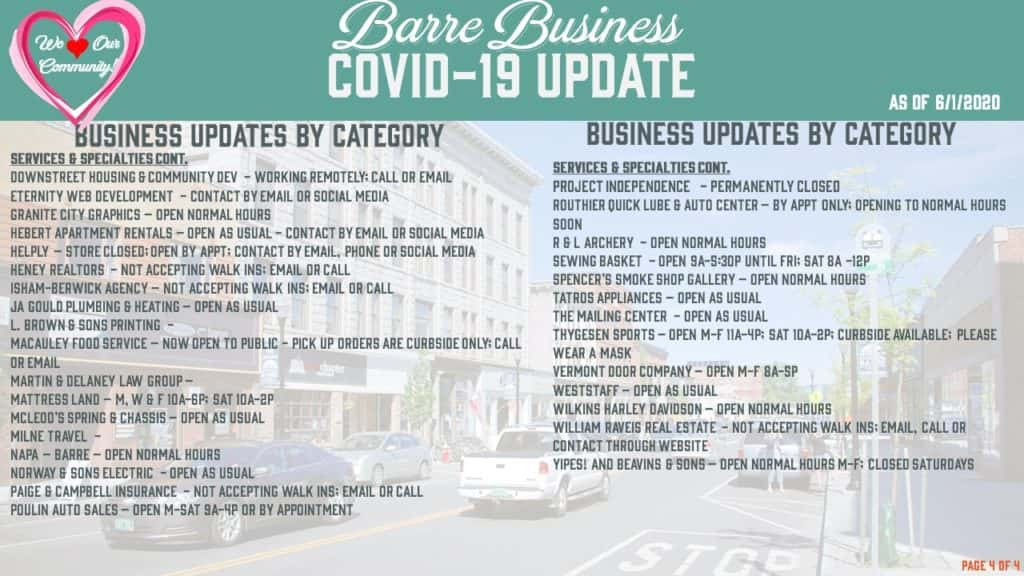 Vermont Flannel is now selling "Vermont Flandanas"! The Vermont Flandana is a non medical, face and neck bandana that keeps your face nice and cozy! Order a 4-pack HERE to keep your face covered when going out for essential tasks and the proceeds support the Vermont Foodbank.
United We Move" is an initiative where Planet Fitness is providing free in-home workouts for everyone.
Simply join everyday on Facebook or visit their YouTube page for free daily workouts.
Click HERE to check out a list of area businesses and restaurants offering online shopping courtesy of Montpelier Alive
RB's Deli is open Seven days a week from 7:30 to 8:00 PM for curbside service or local delivery, call them at 802-763-2411
There's a lot going on in the world right now, but getting your tax refund is as important as ever. H&R Block is here to help you safely get your taxes done. Just drop off your documents at H&R Block and a tax pro will do the rest.   Your neighborhood H&R offices in West Lebanon, Lebanon, Claremont, Newport, Plymouth, Littleton, St Johnsbury, Bellows Falls, Springfield, Brattleboro and Bennington Vermont. 
There is great care giving info and procedures on AARP's website
IF YOU'D LIKE TO REPORT A BUSINESS UPDATE 
PERTAINING TO THE CORONAVIRUS PLEASE CLICK HERE
AUDIO:
There has been a massive run on grocery and retail stores since the beginning of the coronavirus pandemic. Click HERE to listen a very informative interview with Erin Sigrist, President of Vermont Retail & Grocers
Great Eastern Radio's Peter "Fish" Case chats with Emilie Katherine Kornheiser, Brattleboro District 1 Vermont State Rep, to discuss what the state of VT is doing to assist with Youth Services during the COVID-19 pandemic. Click HERE to listen to the interview
We video chat with Vermont Congressman Peter Welch and discuss the Federal Government's COVID-19 Stimulus Package. Click HERE to watch interview
Betty B talks with Amy, Owner of Barre Jazzercise about how to stay active while at home during the pandemic…Click PLAY below
Betty B talks with Dan from Montpelier Alive about businesses in Central VT and how we can continue to support them during the pandemic…Click PLAY below 
Betty B talks with Jessica Vanorman, Teacher in Barre Town about distance learning and advice to parents who are now helping teaching from home…Click PLAY below
Betty B talks with John Inrwin, the IT Director for Central Vermont Home Health & Hospice about making and distributing face masks…Click PLAY below
Betty B talks with Lindsay Kurrle, Secretary of the Agency of Commerce and Community Development about how tourism and small businesses in Vermont are currently being effected by the COVID-19 pandemic…Click PLAY below
Betty B talks with Brooke Kaplan, Director of Marketing for Darn Tough Socks about their efforts for the community during the COVID-19 pandemic…Click PLAY below 
IMPORTANT TELEPHONE NUMBERS:

If you are sick and have questions on how to proceed, call 211
Vt. Department of Health: 802-863-7240