Central Vermont High School Hockey Preview
The long wait for the first week of December has arrived and the high school hockey season is underway. The schedule has a very different look this year for two Central Vermont boys teams. Between them, the U32 Raiders and Stowe Raiders have won the last five Division II championships, including last year's 3-2 U32 win over Stowe. This season, both teams have been moved up to Division I and will compete against Spaulding and the best teams in the state.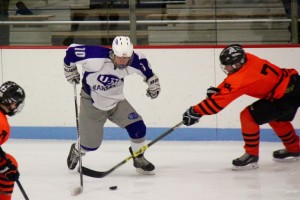 In Division II it should be a wide open race since last season's top four teams are now playing in D1.
In girls hockey a number of teams will be bringing in large and talented freshmen classes.
Listen for live hockey coverage this year on 105-7 The Beat. All games will be streamed at www.the beatvermont.com. From mobile phone download The Beat App or Tunein Radio.
BOYS
HOCKEY PREVIEW
SPAULDING (Division I)
COACH: Clay Bell
LAST SEASON: 12-10-0 (Lost to BFA in semifinal)
After a somewhat rocky start last season, Spaulding closed with a furious second-half run of nine wins in 11 games. One of only two teams to beat Division 1 champion BFA in the regular season, The Bobwhites got revenge in the post season ending Spaulding's season in the semifinals.
Eight seniors graduated, but another class of talented seniors should give the Crimson Tide a lot of experience to go up against the top teams in the state.
"I think this is one of the deeper teams I've had in recent years," says Spaulding coach Clay Bell. "Defense first is our mission; if we limit scoring opportunities then I believe the goal scoring will come. Division I is always tough, with the usual teams BFA, CVU and Essex at the top. We've got strong defense, good goaltending and good team speed. If we play our game then we could be in the race."
The first line should put up some points with Denver Heath, who has speed and a scoring touch (13 goals), Brad Romeo, strong around the net (11 goals) and Nick Blow. The rest of the line combinations have not been set, but look for three lines to see action. Other forwards seeing plenty of ice time include Tyler Murray, Colin Dickinson, Jake Couture, Collin McFaun and Northfield transfer Jackson Clayton. The blue line returns one of the state's top defenders, senior Luke Krupa. He notched eight goals last season, many on the power play with a hard accurate shot from the point. Senior Chandler Cressey is another steady defenseman who can move the puck. Two juniors, Matteo Perantoni and Patrick Brock, give the Crimson Tide four experienced defenders. Senior Cody Gosselin will step in as the number one goalie after seeing action the last two seasons as the backup. Another experienced goalie, transfer Matthew Aubut, will also see action giving the Crimson Tide plenty of experience in net.
U 32 (Division I)
COACH: Dave Pickel
LAST SEASON 20-2-1 (Won Division II Championship 3-2 over Stowe)
The Raiders closed out last season with their most exciting period of hockey in recent history, erasing a 2-0 third period deficit and capturing their third Division II title in five years, with a 3-2 heartstopping win over Stowe. The Raiders will face a bigger challenge this season as they move up to play in the newly realigned Division I.
Seven players are gone from the championship team so the Raiders will not have the depth of some of the top teams in D-1, but they do have returning talent and some new players ready to contribute immediately.
"The players are ready go up against the best teams in the state," said coach Dave Pickel. "I think we have a solid defensive crew and two forward lines that can compete well in D-1 plus experience in goal. Our biggest issue will be depth, and getting our third line ice time, while playing teams that will rotate three or four lines."
Raiders talent includes the Montpelier duo of Lucas Eldred (30 goals, 20 assists, 50 points) and Conor Barrett (18-25-43). The senior pair are excellent together, and frequently set each other for easy finishes. Eldred is fast, shifty and good around the net, while Barrett's size allows him to play both ways, as a skilled finisher and enforcer on the defensive end. While those two forwards should put up good numbers this season, the Raiders will need contributions from everyone, including forwards Brendan Marineau, Malone Bruce, Liam Robert and freshman Ethan Eldred. The defense should be solid, with prep school transfer sophomore Parker Schaarschmidt bringing his experience playing against high level competition, along with returning blue liners Matt Hynes, Zach Lague and Spaulding transfer Coby Gilander. Another skilled player back this year is senior Harper Wimble. He will see action at forward or defense after spending last season with the Vermont Lumberjacks. Junior Rory Hynes will become the number one goalie. Hynes played in eight games last season and only gave up 12 goals.
STOWE (Division I)
COACH: Chris Eaton
LAST YEAR 18-6-0 (Lost to U32 3-2 in Division II Championship)
Last season the Raiders came up short in their third straight trip to the Division II title game.
After a successful run in D-2 that included two championships in three, the new alignment has moved Stowe back to D-1. It will be a huge challenge for a team that graduated seven seniors, including All-State forward Chad Haggerty who led the team in scoring (179 career points).
Entering this season with their smallest roster in years, just 17 players, the team will need to rely on their seven seniors as they battle against teams with much deeper rosters. A number of forwards return, including seniors Jackson Felis, Sam Lively, Gabe Elisasson and Jacob Walker. Sophomores Jace Boerger, who scored a highlight goal in the championship game, and Max Carr will skate up front along with freshman Alex Carpenter. Senior Ryan Martin leads the d-corps that will also include Sebastian James and Addison Bellavance. The goaltending looks to be strong with junior Kristian Viljanen expected to stop a lot of pucks with Bannon Wright as backup.
Stowe coach Chris Eaton says in spite of a small roster his team will battle every night. "I think we can be competitive in Division I, but we don't have the number of skaters we had last year. That's going to be difficult when you're up against the league's top teams. Depth will certainly be an issue, and we need to stay away from losing any players to injury."
NORTHFIELD (Division II)
COACH: Doug MacDougall
LAST YEAR 7-14-0 (Lost to Hartford in playdown)
Former assistant coach Doug MacDougall takes over for Paul Clayton behind the Northfield bench. The Marauders were very young last season. Now the core players are juniors and sophomores with much more experience.
Northfield did not lose much to graduation (just two players), but leading scorer Cory Doney left for the Vermont Lumberjacks and two players transferred, leaving a scoring void.
The top returning scorer is junior Garrett Bean. He'll need help from other returning forwards Mitchell Goodrich, Conner MacDougall and Ashton Morvan. Three new faces in the offensive attack include Paul Linehan, Daniel Ruel and exchange student Dom Rotzetter. The defense is led by big Ethan Hatch along with Nolan Bean, Bryce MacDougall and Caleb Bridges. The Marauders will have a new look in net with freshman Dylan Partlow between the pipes.
Coach Doug MacDougall says the new alignment in Division II this season will make things interesting. "With last year's top four now in D-1 that really opens up our league. I think D-2 will be very competitive with much more parity. A couple of teams should be real good at the top of the league. The rest, like us, should be in a battle for the middle of the pack."
HARWOOD (Division II)
COACH: Dave Morse
LAST YEAR 9-11-1 (Lost to Burr & Burton in playdown)
With things wide open in Division II, Harwood could have a shot at a lengthy post-season. Thanks to a solid returning lineup that includes seven seniors, the Highlanders look to be one of the deeper teams in Division II.
"It will be different in Division II with the top four teams moving up, but there are some very good teams left in D-2." says Harwood coach Dave Morse. "It will be a very even league with parity and seven or eight teams in the battle. I think we'll be in the mix, but we'll need to work hard every game."
Harwood has skill up front with senior Eli Rivers leading the way. Rivers is a proven goal scorer who can get up and down the ice quickly. Other forwards who should contribute to the fast Harwood attack include Connor Cameron, Hunter Wimble, Eriks Ziedens, Connor Beck, Sam Towne and Ryan Garrand, who moves up from defense. The blue line looks solid with senior Connor Dow leading the way. Dow has size and can play physical, but also has a hard shot and will be dangerous quarterbacking the power play. The rest of the defensive group includes Justin Cantwell, Cole Spalding, Ivan Morse, Jacob Wells and Taylor Griffin. The goaltending job will be split between junior Ben Hodziewich and sophomore Sean Russell.
GIRLS HOCKEY PREVIEW
SPAULDING (Division I)
LAST YEAR: 9-12-0 (Lost to Rutland in quarterfinal)
COACH: Brad Bessette
With everyone back from last season except three players, the Crimson Tide look to have a little more experience this season. The team finished just under the 500 mark in each of the past two seasons, with the bulk of its scoring coming from one or two top players.
Don't except that to change this year with all eyes on senior Jesse Scott. The All-State first team standout is coming off a 30-goal season, despite missing four games with an injury. A fast, strong skater with a wicked wrist shot. Scott will certainly draw plenty of attention from the opposition.
"Everyone knows Jess is one of the best players in state; she's a great example for the team with her hard work. Her goal scoring gets the most attention, but she plays well in all areas of the ice," according to coach Brad Bessette.
Last year's other big weapon, Taylor Coburn, transferred to prep school, leaving a scoring void. Junior Lauryn Bedard will skate on the first line with Scott, giving the Crimson Tide two strong scoring options. Beyond those two players, there is little returning scoring power. Expect forwards Megan MacIver, Riley McFaun and Katlyn Alger all to see regular shifts. The blue line includes junior Alison Ahearn, a solid skater who moves the puck well from back end and can jump up and contribute offensively. The rest of the defensive group includes Olivia Couture and Cameron Gilwee.
"Team defense will be a priority. We've been working hard in practice on limiting scoring opportunities, and we've got two strong goalies, but we need to help them out," said Bessette.
Junior Maddy Pletzer and sophomore Amber McGinley will see action between the pipes. Both have the ability to steal a game, and performed well last season in games where the Crimson Tide were outshot.
NORTHFIELD (Division I)
LAST YEAR 9-12-0 (Lost to BFA in semifinal)
COACH: Chris Amell
The youth movement is on for the Marauders, with eight freshmen moving up from U14 giving Northfield their deepest roster in years. Northfield only lost three players to graduation, but leading scorer Cat Miles transferred to prep school so the team will need a balanced attack to compete in Division I.
"We have a bright future in Northfield," says coach Chris Amell. "This is the biggest and most talented freshmen class I've ever had. They'll need to adjust to the speed of D-1 and that takes time, but I'm looking forward to watching them progress."
Senior Courtney Amell is the top returning scorer. She's fast up the ice and has played both forward and defense. She'll center the first line, with junior Bridget Doney and sophomore Aleta Mathers. Freshmen Corrine Bolding, Kailie French, Sarah Garvin and Kaylee Thayer will all skate up front. The defensive cornerstones will be juniors Brianna Doty and Julia Passalacqua. Both have been starters since their freshman season. The team's blue line also includes talented freshmen Tea Miles and Nichole Pappas. In goal, senior Analiese Morvan returns, along with freshman Kaylee Thayer, who will play forward when not in goal.
U 32 (Division II)
COACH: Jeff Wuorinen
LAST YEAR 17-5-0 (Lost to MMU/CVU 5-2 in Championship)
The Raiders are coming off a season where they won 17 games and made it to the championship, before dropping a 5-2 decision to CVU/MMU. With the loss of seven seniors who all played key roles last season, the Raiders will have some big skates to fill this year. Just eight players return from last season. The good news is that a talented freshmen class has arrived to complement a number of skilled seniors.
"After losing such a big senior class, originally I wasn't sure about the outlook for this season," says coach Jeff Wuorinen. "Now that I've seen the freshmen play and we've had a couple of games, I feel we'll be very competitive in D-2 again this year. Our top end players will make things happen."
Two players the Raiders will be leaning on are seniors Michaela Bernier and Jordyn Michaud. Bernier was one of the top scorers in Division II last year, notching 32 goals, including a hat trick during the overtime semifinal victory over Stowe. Bernier already has five goals in the Raiders' first two games, while Michaud scored 12 goals while playing both defense and forward. Expect the all-senior first line of Bernier, Michaud and Ellie Stroh to put up strong numbers, with newcomers adding to the scoring attack. Freshman forward Renee Robert is off to a great start with four goals in her first two games. Sophomore Chloe Schiff and freshman Ella Lyford are other forwards slated to see plenty of ice this year
The defense is young but talented. Senior Acadia Zabriskie will be paired with steady sophomore Payton Kurrle. The other defensive pairing will be freshmen Bella Parento and Jenna Mekkelsen. Parento is a strong skater who is skilled beyond her years. Between the pipes, Gabriela Calderon will become the number one goalie, after seeing some action last season. Sophomore Brianna Rich will be backup in the net.
HARWOOD (Division II)
LAST YEAR 1-19-1 (Lost to Rice in playdown)
COACH: Mike Vasseur
The last couple of seasons have been tough for the Highlanders, with a diminished number of experienced players coming into the program. Despite that challenge, Harwood competed well in many close games last season, so look for continued improvement as the team returns all but three players.
"We've got a little more experience this year," says coach Mike Vasseur. "We're still working some less experienced players into the lineup, but the program seems to be moving forward."
Offensively sophomore forward April Tousignant is the top returning goal scorer. Senior Celia Lawton will skate on the first line with Kelly Baird, and should add to the scoring power. The defense will be led by sophomore Lilianna Ziedins. A strong defensive player, she can also score, with four goals already this season in just two games. The rest of the D-corps includes seniors Rachael Tousignant and Sally Goodwin. In the net, senior Alison Yandow returns after converting from forward. She faced 40-plus shots in a number of games last season, and will continue to battle keep the Highlanders in close games.
STOWE (Division II)
LAST YEAR 11-10-1 (Lost to U32 in semifinal)
COACH: Jeff Lively
One of the most improved teams last season, the Raiders came within a goal of advancing to the championship game before dropping a heartbreaker semifinal 4-3 to U32 in overtime. Gone is a big senior class that included last year's leading scorer Ricki Haab and standout goalie Mikaella Doran, but a large and talented freshmen class will give the Raiders their largest roster in years.
"We have good numbers, with some very solid freshmen," said coach Jeff Lively. "I think we have the talent to compete in the upper third of D-2. We'll need to stay away from injuries and work hard every game."
The top returning forwards include junior Callie Walker, a strong player with a good shot. Look for scoring balance from sophomores Heather Walker, Carolina Rolfe, and Ryer Leveille, along with sophomore Darian Dubie. Another forward, sophomore Alexia Goodwin, excels on the defensive end and adds balance to the Stowe attack. The Raiders' defense is anchored by two very solid senior defenseman, Evie Leikert and Rowan Clymer. The rest of the defense lineup and team is young but skilled, with freshmen Sage Lively and Natalee Chauvin and utility player Izzy Massi. Goaltending looks solid as two freshman Leo Clark and Andrea Jackman share the duties. Clark also will be an additional scoring threat when not in goal.
jseverance@greateasternradio.com
www.thebeatvermont.com
radiojimbo@twitter.com